Sins of a Spy Series
Every family has its secrets. In 1980s Moscow, keeping them is a matter of survival.
The Americans meets Bridge of Spies in this can't-put-down Cold War story of family, intrigue, and betrayal.
Moscow, 1985. Year of the Spy. In the Soviet Union's beleaguered Jewish community, an informant for the CIA and an undercover KGB agent match wits.
D.B. Shuster's Russian spy thriller series pits the quiet determination of an everyday woman against the depth and ambition of the KGB in this tightly crafted family drama.
SINS OF A SPY will hook you from the first page!
Not sure?
read an extended sample free
Kings of Brighton Beach Series
The saga continues in New York…
A family's Cold War secrets could start a mafia war in Brighton Beach, Brooklyn's Little Odessa.
Read the series readers are comparing to the Sopranos and Sons of Anarchy!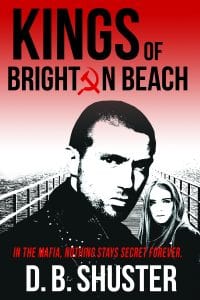 Book #1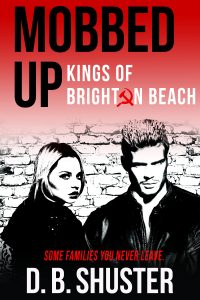 Book #2
COMING SOON
"An exciting read full of jealousy, revenge, redemption, and love." ~Blue Ink Review featured in Booklist
"This one's a shocker in a good way—powerfully dark and dramatic. This portrait of Russian gangsters in contemporary Brighton Beach makes Mario Puzo's Godfather look like a boy scout." ~Amazon Reviewer
"The characters, introduced chapter by chapter, are an intriguing cast each with secrets and flaws I now can't wait to uncover. I was sucked in with the first scene. There's illicit romance, sons estranged from fathers, husbands distanced from wives. The best part is the way these various characters are inter-connected." ~Amazon Reviewer
Not sure?
read the 1st 100 pages free
Neurotica Series
D. B. Shuster offers up thrills of another kind in these sexy, dark comedy short stories about professors behaving badly.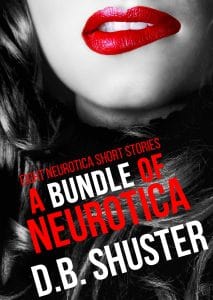 eight short stories
What Readers are Saying
"Timid Professors, evil twins and a good dose of slightly naughty will have you chuckling over the office water cooler."
"Love this series! Smart, funny, and sexy. Great brain candy!"
"Hot and hillarious!"
"These are awesome. They're over the top enough to be funny but really really good. The first two have the same tone: episodic and light and I just loved how they jumped right into the action. It's the third one though that actually makes me want more of the story."
"A wicked romp through the hallowed halls of academia!"
Laugh out loud at these clever and sexy tales. Academia has never been so naughty!
The university men in Professor Melanie Stevenson's life pressure her to take her proper place—under them. While the proper professor indulges in daring daydreams of…submitting to their will, her "evil" twin, Violet, takes on the role of academic avenger and cracks the whip, so to speak, to work out the kinks in higher education.
Written by a college professor, this witty series takes a darkly funny look at the neurotic people and politics of higher education. These eight consecutive short stories tell a larger tale with rich characters, escalating stakes, and steamy action.