Every family has its secrets…
In the mafia, nothing stays secret forever…
Available in Stores Now!
Love. Betrayal. Revenge.
A ruthless son. A master strategist. In the mafia, nothing stays secret forever, and one family's secrets could provoke a mafia war in Brooklyn.
Get hooked on the Russian mafia crime series readers are comparing to the Sopranos and Sons of Anarchy.
Thanks for your patience.
I'm working feverishly on Sins of the Spy, due out this winter.
In the meantime, I've created this short story from the novel to give you a taste of what's to come.
It will be ready soon, and it will only be available here.
From Moscow to Brooklyn
College professor by day, writer by night. My alter ego isn't a spy or a criminal, so how do I know so much about crime, espionage, and the Russian mob?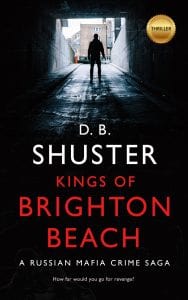 Love. Betrayal. Revenge.
"This one's a shocker in a good way—powerfully dark and dramatic. This portrait of Russian gangsters in contemporary Brighton Beach makes Mario Puzo's Godfather look like a boy scout."
~Amazon Reviewer
Professors Behaving Badly.
"Love this series. Smart, funny, and sexy. Great brain candy! The situations are the perfect blend of sexy and amusing. Oh, to have a wicked twin! Great send-up of university life."
~Amazon Reviewer
Get the free short story, Pleasing Professor.
The prequel to Kings of Brighton Beach.
Deceit. Espionage. Treason.
A passionate affair in Cold War Russia forces a spy to choose between love, family, and country.
Get the sneak peek excerpt, On the Run.
Get the early bird story, To Catch a Traitor.